Christian Pilgrimage: Talking Rome with Ashley and John
Recently, Pilgrim Stays hosted an interaction with Ashley and John Noronha on Saturday, 20 June 2020. Both Ashley and John are well known Biblical personalities and hold Masters' degrees in theology. Both of them also teach at the Pontifical University of the Holy Cross at Rome. There could be none better qualified to give our esteemed viewers a first-hand experience of Rome and the Vatican.
To see the interaction on Facebook Live, please click this link and like our Facebook page: bit.ly/RomnHoliday
A recording of the event can be viewed here:
Being closely connected to the Vatican, they have regular access to it from the inside and to its workings. Ashley and John are best placed to provide viewers with a perspective that goes beyond the superficial tourist experience. Ashley and John Noronha in their own words "love our faith and love sharing it as speakers, media personalities and university professors". In order for viewers to get to know them better we have organised a series of interactions with them.
John is from Bangalore in India while Ashley is from the United States. John moved to the US for a career in electronics and telecom, where he met Ashley, a business executive turned media personality. They tied the knot in 2008 and decided to do what they love most-studying and teaching Catholic art, history and theology; and moved to where their passion could bear fruit- Rome, Italy.
It's been a long journey for them since. Besides being professors at the Pontifical University of the Holy Cross at Rome, both of them are well travelled and have delivered lectures at many forums across the world. John also sits on the Papal Reform Commission, which has been tasked to study the need for organisational, financial and strategic reform of the Vatican.
Interestingly John and Ashley love to share their deep knowledge of Rome and all things Catholic with others. They offer private tours to discerning visitors who are eager to learn more about the art on display which could be overwhelming at first glance. Recently, Pilgrim Stays requested John and Ashley to team with us so that pilgrims travelling on our tours could benefit from their extensive knowledge about Italy; partake of the sights, sounds and tastes of Rome with experienced insiders, while at their same time enjoying their bubbly personalities.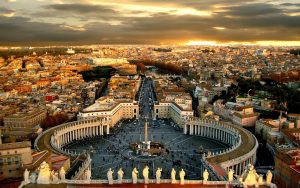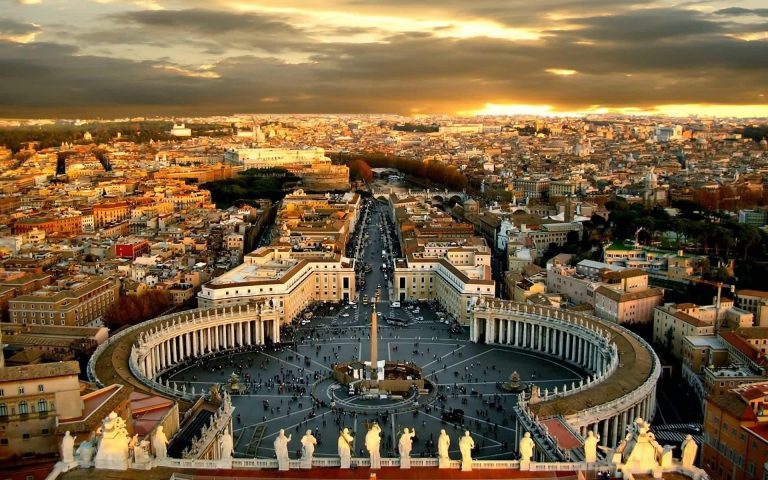 Hi Ashley and John, it's nice to have you on board Pilgrim Stays. Do tell our readers a bit more about yourselves and what drives your passion. What made you'll give up America when both of you were doing so well there?
Ashley: We met in the USA and as we prepared for our marriage, the Lord put it on my heart that after I finished my Master's in Theology, I should continue my advanced studies. I eventually found the perfect doctoral program … but it just so happened to be in Rome, Italy! When I presented the idea to John, he said he'd pray about it. The Lord quickly gave him the gift of peace and the next thing we knew we were preparing not only for marriage but also for a move across the sea to Italy.
At our wedding in Bangalore, so many people asked us if we had jobs or a place to live in Rome. The answer was no, but we knew that if the Lord wanted us there, He would take care of all the details! Coming from lives of security, it's been a beautiful journey of faith.
What made you pick Rome over so many other cities?
We didn't choose Rome per se, but we really felt that the Holy Spirit had made it clear in prayer that we were called to be here. We didn't have a place to live, we didn't have jobs, nor did we speak the language well, but since the Holy Spirit placed it on our hearts, we trusted.
If there is one thing that makes Rome special for you, what would it be?
Ashley: At a time when it's not as easy to wear your faith on your sleeve, I so appreciate seeing countless priests and nuns in every color of habit walking the streets of Rome. I appreciate when the church bells ring throughout the day, calling us to sanctify our day. On Fridays, Italians don't say, "have a good weekend," but instead say, "have a good Sunday," reminding all that the week revolves around the Lord's day. Even cultural and social traditions are intertwined with the faith here.
John: Even though we were already involved in our faith and the Church, living in Rome has taken our faith to a whole new level. With our interdisciplinary backgrounds, Rome brought our head knowledge of theology, sacred art and architecture and Church history to life. This isn't like our past experiences of visiting Rome on quick pilgrimages, because now we're experiencing it as local residents and are able to know the culture, the people, the traditions, and to peel back the layers of art, history and theology of Rome. We feel it's a privilege and honor to walk the streets, which have been sanctified by the saints and martyrs who've gone before us. It got to a point where we felt we couldn't keep this knowledge all to ourselves and we had to share this treasure with others!
How long have you been doing tours? Tell us what makes your tours stand out from the others.
We think of what we do as faith-based experiences. We weave together art, scripture, liturgy, philosophy, anthropology and Roman and Church history to offer people a deep experience of the faith. Whether for kids or adults of any background, visitors feel they're getting a true understanding of this great and complex city woven into a beautiful tapestry. We have been with atheists and people of every faith and witnessed amazing personal transformations on many levels.
When we diversified into other fields of expertise, it wasn't job-related, but because we felt we were led to do that. So we pursued it. Now we see the unfolding of God's plan in how this was the preparation we needed- it's necessary to have theology, philosophy, art history, liturgy, Church and Roman history and scripture, in order to do justice to Rome and the Vatican.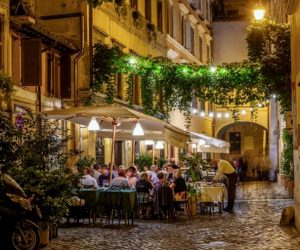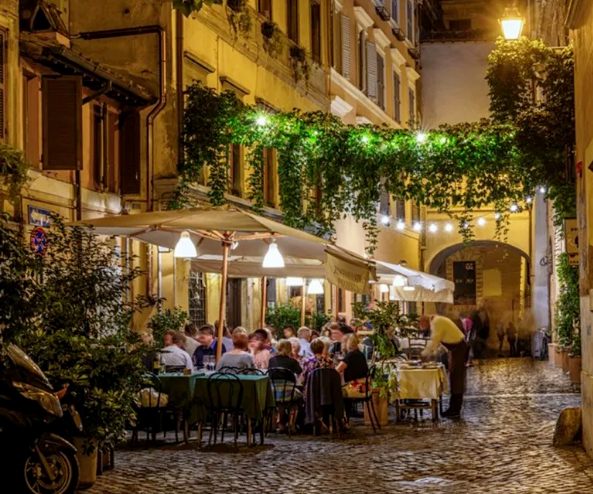 Your website has something about an Immersion Experience. Could you elaborate?
When private families and pilgrimage groups come with time limits of a single or a few days in Rome, we give them a fully integrated experience according to the length of time they have. But the Immersion program takes it all up many levels, since in addition to just the tours this is a week-long experience including life-skills formation, leadership skills, and amazing guest speakers from the Vatican and beyond. We serve groups (6 or more) of all kinds – CEOS, church groups, professional associations, parish staff, friends, families, etc.
Which are your favourite restaurants in Rome?
Ashley: One of my most memorable dining experiences was at Aquolina, a Michelin rated seafood restaurant. Not only was each course of the Chef's Tasting Menu delicious, but each was served with different styles of plates and cutlery, making it a fully-sensory dining experience.
John: We prefer non-touristy places where we know the owners and the chefs and know that the food is authentically Italian and authentic to the region the restaurant represents. One of our favourites is I San Pietrini, where the sought-after chef comes up with eclectic gourmet menu options at non-gourmet prices.
Do you have a particularly favourite food that you could suggest to our readers? Having lived here for a long time you would have a fair idea of what is not to be missed.
Ashley: Italians eat seasonally and I always get excited for artichoke season! My favorite preparation is Carciofo Alla Romana, where the cooked artichoke is marinated in olive oil, garlic, and mint. It can be so soft that it seems to melt in your mouth!
John: Eggplant parmigiana! But there are so many recipes for this dish, so my favorite is at a small, family-run Roman trattoria.
If you were asked to pick a favourite pilgrim site in Rome that should never be missed, which one would it be?
St Peter's Basilica!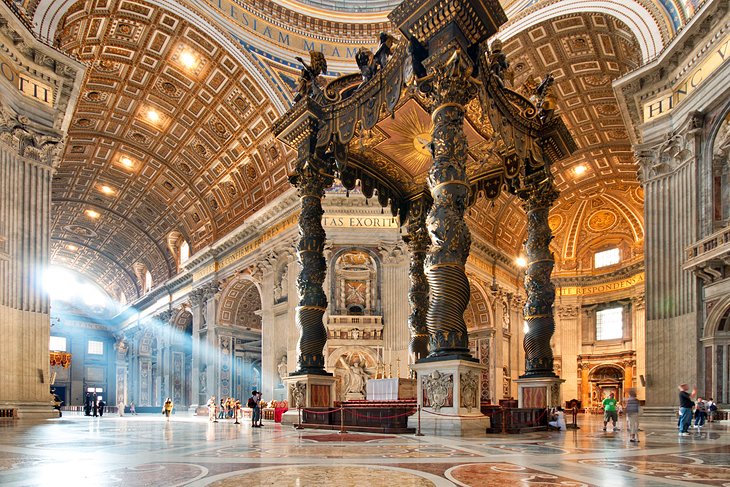 How is it like to be inside the Vatican? Does one have to go through a lot of formalities?
It's obligatory for all pilgrims to go through security to enter the major Basilicas. Post-Lockdown the rules change from week to week and right now you have to have your temperature taken and maintain social distancing. Anyone can enter the Basilica from open to close. Since we were both Vatican employees, we also enjoy special privileges like shopping at the tax-free supermarket and department store inside the Vatican walls.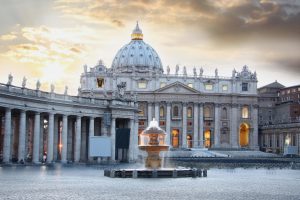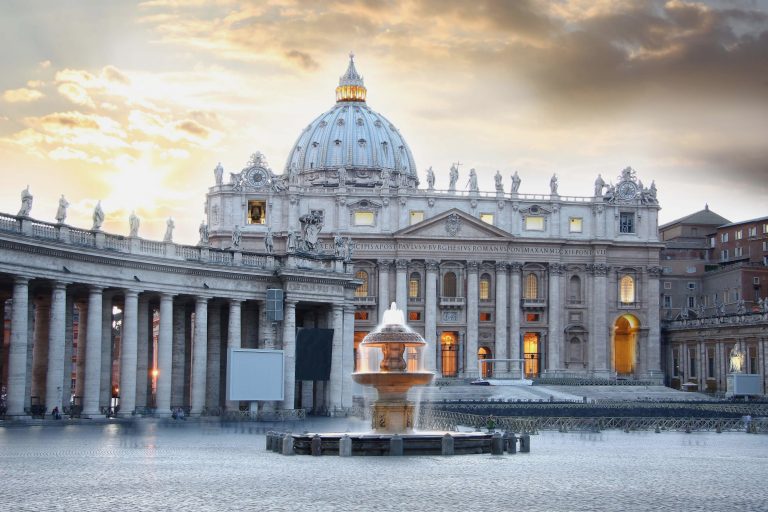 John is a professional tap dancer. Do you still find time to indulge in your passion?
We love to dance! We enjoy dancing various types of ballroom together – swing, all forms of Latin, foxtrot, etc. Due to a severe accident, sadly, John can no longer tap dance, but we make up for it with these other fun types of dance! Ironically, because dance events start so late at night here, we don't have as many opportunities as we do when we go home to Bangalore. We love enjoying the bands and balls at the Catholic Club!
Having travelled so much, you must be having a dream destination. Which place is it?
Ashley: I'd like to sail the fjords of Norway and see the Northern Lights
John: As much as I enjoy traveling to see exotic sites, history, and art, for me a dream destination is more based on the family and friends that I get to be with.
You certainly seem to be the ideal couple, a benchmark for a successful marriage. Would you like to share the secret of how you'll made it work?
It's a great gift to have the Lord at the center of our lives, marriage, and decision making. Our secret is to continue to ask the Lord for two things:
1. to make His will known to us
2. to give us the grace to do it.
Then, we strive to do what He asks us with joy. One of the publicly available talks that we've given on faith and marriage is found here: https://www.facebook.com/watch/?v=692819021491927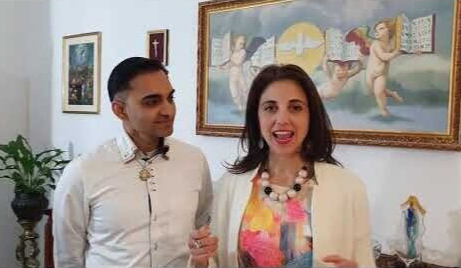 To see the interaction on Facebook Live, please click this link and like our Facebook page: bit.ly/RomnHoliday