Historical Goa Itinerary
DAY 1: Panjim – Fontainhas – Beach

Noon
Transfer to Hotel from Airport or Railway Station
Check in
Arrival at Panjim, 5 star property, Panjim
Lunch
At the inhouse restaurant
Visit
Immaculate Conception Church
Experience
Fontainhas and Latin quarter
Evening
Miramar Beach
Dinner
At upscale restaurant/ inhouse restaurant

DAY 2: Divar Island, Reis Magos, Fort Aguada

Breakfast
At the hotel
Excursion
Divar Island- transfer by coach and ferry
Our Lady of Piety Church
Lunch
Served in a beautiful Indo Portuguese house
Fort 1
Transfer to Reis Magos Church, Verem
Reis Magos Fort, Verem
Fort 2
Fort Aguada
Sinquerim Beach, Candolim
Dinner
At upscale restaurant/ inhouse restaurant
DAY 3: Historical Goa

Breakfast
At the hotel
Check Out
Transfer to Old Goa
Arrival at Bom Jesus Basilica
Se Cathedral & Museum
Church & Museum St Francis Assisi
Chapel of St Catherine
Lunch
At Restaurant at Old Goa
Former Church of St Augustine
Church of Our Lady of the Rosary
Church & Museum of St Cajetan
Transfer to Cavelossim
Check in
5 star Resort, Cavelossim Beach
Dinner
At the inhouse restaurant
DAY 4: Heritage Homes
Breakfast
At the hotel
To Loutolim
Visit three palatial heritage houses of Goa
Experience
The Figueiredo Mansion, Loutolim
Experience
Menezes Braganca House, Chandor
Lunch
Lunch served at the Palácio do Deão, hosted by the owners
Experience
Palácio do Deão, Quepem
Drive back to beach resort
Dinner
At the inhouse restaurant

DAY 5: Beach/Boat Cruise and Check out

Breakfast
At the hotel
Option: Boat Cruise from Cavelossim
Check Out
Transfer to Airport
Transfer to Railway Station
Having being insulated from the rest India for the 450 years that the Portuguese ruled it, the tiny Indian state of Goa has developed a culture and lifestyle that stands out for its colour and vibrancy.
Blessed with an almost uninterrupted coastline of beautiful beaches that stretch mile upon golden mile, Goa casts a magic spell on those who seek its unspoilt beauty.
The state is a great place to unwind and soak in a Mediterranean ambience that has remained intact- a legacy from the colonial days. The laid back, unhurried and content lifestyle is best captured in the quintessential Goan term 'susegad'- literally meaning quiet in Portuguese.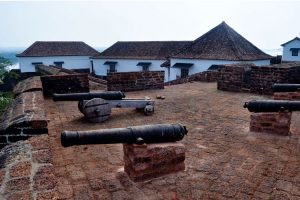 Goa has all the elements that make it paradise on earth- sunshine, beaches, spectacular islands, seafood, feni (the traditional liquor) and great music. Being the fun capital of India, it is without doubt the topmost tourist destination.
But Goa has a lot more to offer than only beaches and feni- it has a rich heritage, relatively well preserved, providing a fascinating glimpse of an era gone by. This is the Historical Goa that escapes most visitors, yet provides much satisfaction to the ones who seek it out.
From its beautiful Baroque style cathedrals, crumbling forts to the once opulent streets of the colonial capital of Old Goa, this is a mesmerising place that transports you back in time.
Take time off to visit stately residences, equipped with every luxury that the 16th century could provide. Pilgrim Stays has curated a set of experiences, catering to the discerning traveller. In doing so we aim to enlighten and entertain.
While the logistics of your stay are taken care of in first class accommodation, look to the varied options on offer to enhance your holiday. The Tour Directors on our panel are people who are passionate about what they do. You can expect to gain meaningful insights into what you see and take home beautiful memories of an unforgettable experience.