Church Music: A talk on the history of Sacred Music by Michael Peria
We are glad to announce the 7th Pilgrim Stays Facebook Live on Sacred Music in the Catholic Church was conducted on Saturday, 7th November 2020 at 7.30 pm India Time. The webinar was streamed live on our Facebook page and YouTube Channel. A recording of the event is available here:
There has been a long tradition of Sacred Music dating back to Biblical times of the Old Testament. In the Christian Era, the place of Sacred Music in liturgy was firmly established by Pope Gregory I (popularly known as St Gregory the Great), who was in office from 590 to 604 AD. Church music that is practiced today, owes much to the structure put in place by St Gregory the Great and which continues to be followed to this date.
This and several other fascinating topics were touched upon by Michael Peria, a noted minister of Sacred Music who has had a long innings of over 50 years in this field. Mr Peria, a recipient of several prestigious awards from both the Church and Government, is a very accomplished personality and brings to our loyal audience half a century of expertise in his field.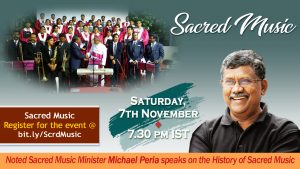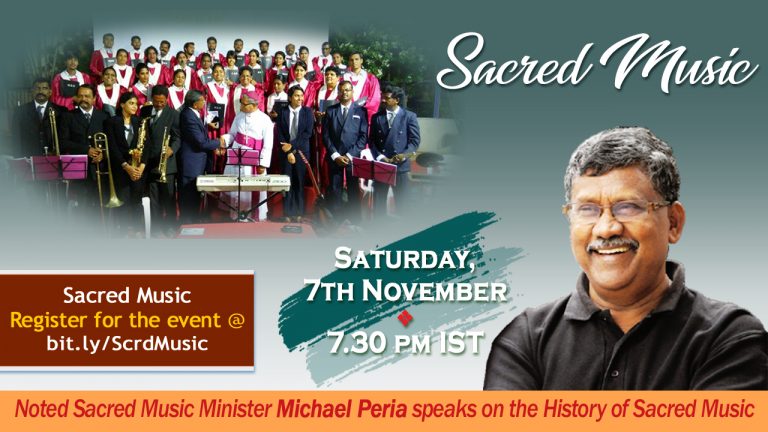 During the course of his talk, Mr Peria spoke of the role of Scared Music in other faiths, notably Buddhism, Islam, Hinduism, Judaism as well as in Eastern Christianity. He highlighted the essential differences that separate Church music and secular music. He underlined the need for composers of hymns to align their techniques with the teachings of the church and thus ensure that the music they produce is truly divine.
The audience was enthralled by Michael Peria's depth of knowledge in his field and this was evidenced by the many comments of appreciation that were put up on both Facebook and YouTube. Pilgrim Stays has consistently sought out leading figures in a particular sphere to speak at our webinars, and in Michael Peria we are fortunate to have had the pleasure of working with a truly gifted and knowledgeable personality.
You can view all our webinars here: https://pilgrimstays.com/pilgrim-stays-facebook-webinars/
Subscribe to our YouTube Channel and see all our videos in one place.